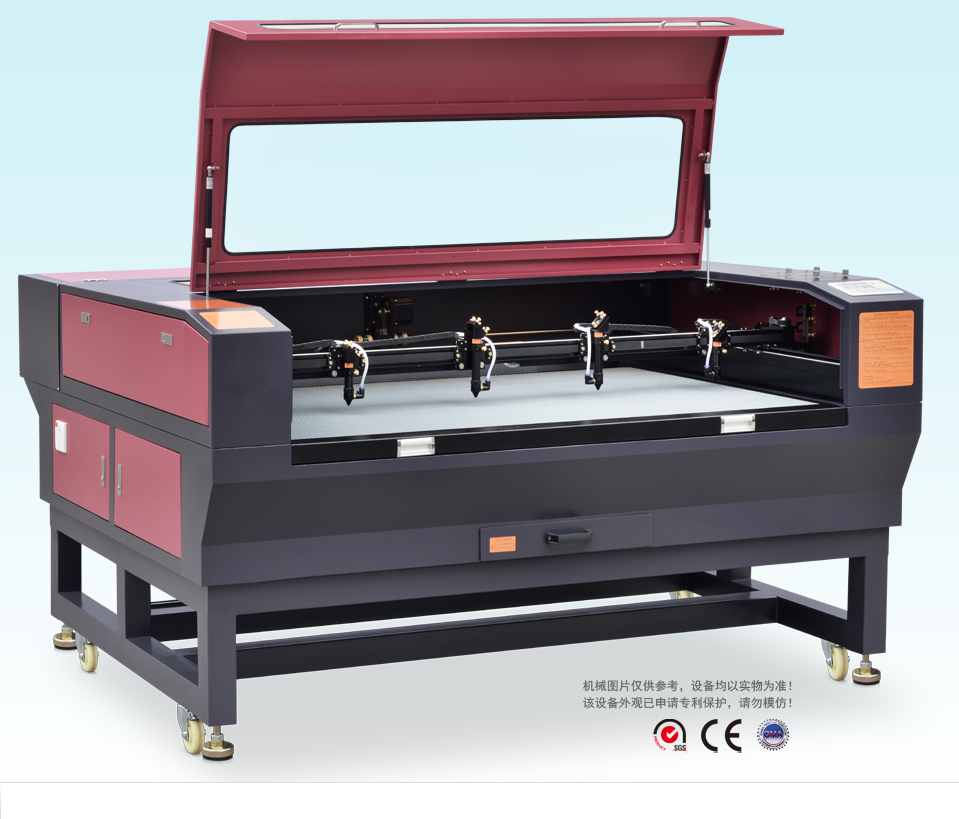 【Features】
The laser engraving and cutting machine is designed for customer's needs with high speed and high precision. It can be equipped with different professional accessories according to different processing materials, such as knife-shaped platforms with different pitches or steel honeycomb platforms. The performance characteristics of this machine: high speed, high precision, super strong beam, smooth cut, strong cutting force. Optional double-head laser cutting machine can also meet the production needs of small enterprises and individual processing. The laser energy can be adjusted in real time, which greatly facilitates the customer's operation, automatic cutting energy compensation function, and the cutting effect is greatly improved.
[Application field]
The specific applications of the top ten laser industries are as follows:
1. Paper industry: all kinds of paper-cuts, greeting cards, hangtags, stickers, invitations, invitations, and other paper crafts.
2, clothing fabric industry: clothing, apparel, jeans, zippers, buttons, fabrics and so on.
3, bamboo and wood crafts industry: bamboo and wooden crafts, photo frames, hang tags, wooden boxes, furniture and so on.
4, craft jewelry industry: photo frames, pens, pen boxes, business cards, gold and silver jewelry, signs, badges, photos, awards, collectors, art, plaques and so on.
5, plexiglass industry: DVD, VCD, power amplifier, mobile phone and other electrical panels, all kinds of acrylic crafts shape cutting and pattern carving.
6, footwear: leather shoes, sandals, casual shoes, sports shoes, women's shoes, men's shoes, children's shoes, shoes, shoes of all kinds of materials.
7, leather leather industry: handbags, leather bags, belts, hand-pull, belt buckles and other leather goods.
8, electronic plastics industry: keyboards, electronic components, home appliances panels, computer panels and other characters and patterns engraving.
9, packaging industry: packaging boxes, metal bottle caps, cans and so on.
10, metal plating industry: tools, measuring tools, cutting tools, molds, sanitary ware, tableware, knife and scissors, stainless steel products and other hardware.
【Basic parameters】
Working area 1600*1000mm
Laser power 80w/100w/130W
Cutting speed 0-400mm / sec
Engraving speed 0-600mm / sec
Positioning accuracy 0.01mm
Supported formats .plt/.dst/.dsb/.ai/.dxf/.bmp/.jpg
【pre-sale service】
1. Provide technical consultation: We will provide you with any professional technical and price consultation, mail related samples and product information, or promptly give any questions you care about in a timely manner within 10 hours. Responsive, for example: the difference in the application of processing technology on different materials, the relationship between processing time and flower shape and so on.
Second, provide inspection reception: We welcome you to visit the company anytime, anywhere, and provide you with any convenient conditions.
[sales service]
1. Whether you are a foreign customer or a domestic customer, whether you are our old customer or our new friend, whether your contract amount is large or small, we will treat the same with integrity, fairness, enthusiasm and rigor. ;
Second, we guarantee strict implementation of the terms and conditions of the contract in a punctual, quality and quantity manner, and provide customers with value-added services, such as installation, training and so on.